Regular price
Sale price
£16.50 GBP
Unit price
per
Sale
Sold out
PURITY CLEANSING OIL | Skin-hydrating Facial Cleansing Oil
360 botanics Purity Cleansing Oil is a natural skin-hydrating facial cleansing oil that is perfect for removing makeup, dirt, and impurities from your face at the end of your day. This gentle yet effective cleansing oil is infused with natural essential oils that will leave your skin feeling refreshed, revitalised and smelling good. It is a treat for your skin that will deeply cleanse your pores, leaving your skin hydrated and ready to receive the next step in your beauty routine.

Our cleansing oil is perfect for all skin types, whether you have dry, oily, or sensitive skin! It is specially formulated to nourish and hydrate your skin, so you can enjoy a radiant and glowing complexion. The natural ingredients in this cleansing oil work together to remove dirt and impurities from your skin, without stripping it of its natural oils, leaving your skin feeling soft and supple.

To complete your beauty routine, we recommend that you pair our cleansing oil with other products from the same range, such as our Rose Radiant Facial Mist, Super Serum (face serum), and Rose Beauty Balm. The Rose Radiant Facial Mist is a refreshing face mist that helps to soothe and hydrate your skin, while the Super Serum (face serum) is a nourishing serum that helps to boost the overall health of your skin. The Rose Beauty Balm is a luxurious balm that seals in moisture, leaving your skin feeling soft, supple and brighter.

Is a face oil cleanser good for your face?
Yes, using natural oils for cleansing instead of traditional soap cleansers, helps protect the natural layer of the skin, so it is a much gentler way of cleansing and looking after delicate skin.
HERO INGREDIENTS:

Castor Oil, deep cleanser and bacteria inhibitor
Lemon Essential Oil, natural skin toner & brightener
Juniper Essential Oil, naturally astringent & uplifting
DIRECTIONS:
Massage 1 or 2 pumps of this super charged Cleansing Oil into the skin from neck to forehead and remove with a muslin cloth that has been soaked in the hottest possible water.
You can take off most types of eye makeup with this oil, just be careful not to get it in the eyes. Hold the cloth for a few moments on the skin and take in a few deep breaths before using the cloth to remove the Cleansing Oil in small circular motions.  Do this twice for a deep double cleanse if you feel you skin needs it! 
Why not try using our cleansing oil with one of our Black Muslin face cloths
INGREDIENTS:
Simmondsia chinensis - Jojoba oil, Ricinus Communis - Castor oil, Helianthus Annuus - Sunflower oil, Citrus Limonum  - Lemon, Juniperus Communis - Juniper, Origanum Majorana - Marjoram
Jojoba Oil - one of the best all round oils to use in skin care. It is rich in proteins, vitamins and minerals and it's easily absorbed by the skin. It has a structure which is similar to the body's own natural oils and can stop the skin over-producing sebum making it ideal for problem skin like acne. Jojoba can also decrease the appearance of fine lines and wrinkles.
Castor Oil - contains high levels of Ricinoleic acid which can inhibit growth in the bacteria that cause acne. It is rich in fatty acids that enhance smoothness and softness and works well as a deep cleansing oil.
Sunflower Oil  - is a great source of vitamin E, rich in nutrients and antioxidants, it is effective for combatting skincare issues like acne, inflammation, general redness and irritation of the skin. Sunflower oil has emollient properties that help the skin retain its moisture.
ESSENTIAL OILS:
Lemon  - a natural skin toner that helps brighten and even out skin tone

Juniper - Uplifting, stimulant, astringent
Marjoram - A replenishing, purifying and balancing oil, this calming oil helps to clear pores, detoxify and reduce hormonal breakouts
Share
View full details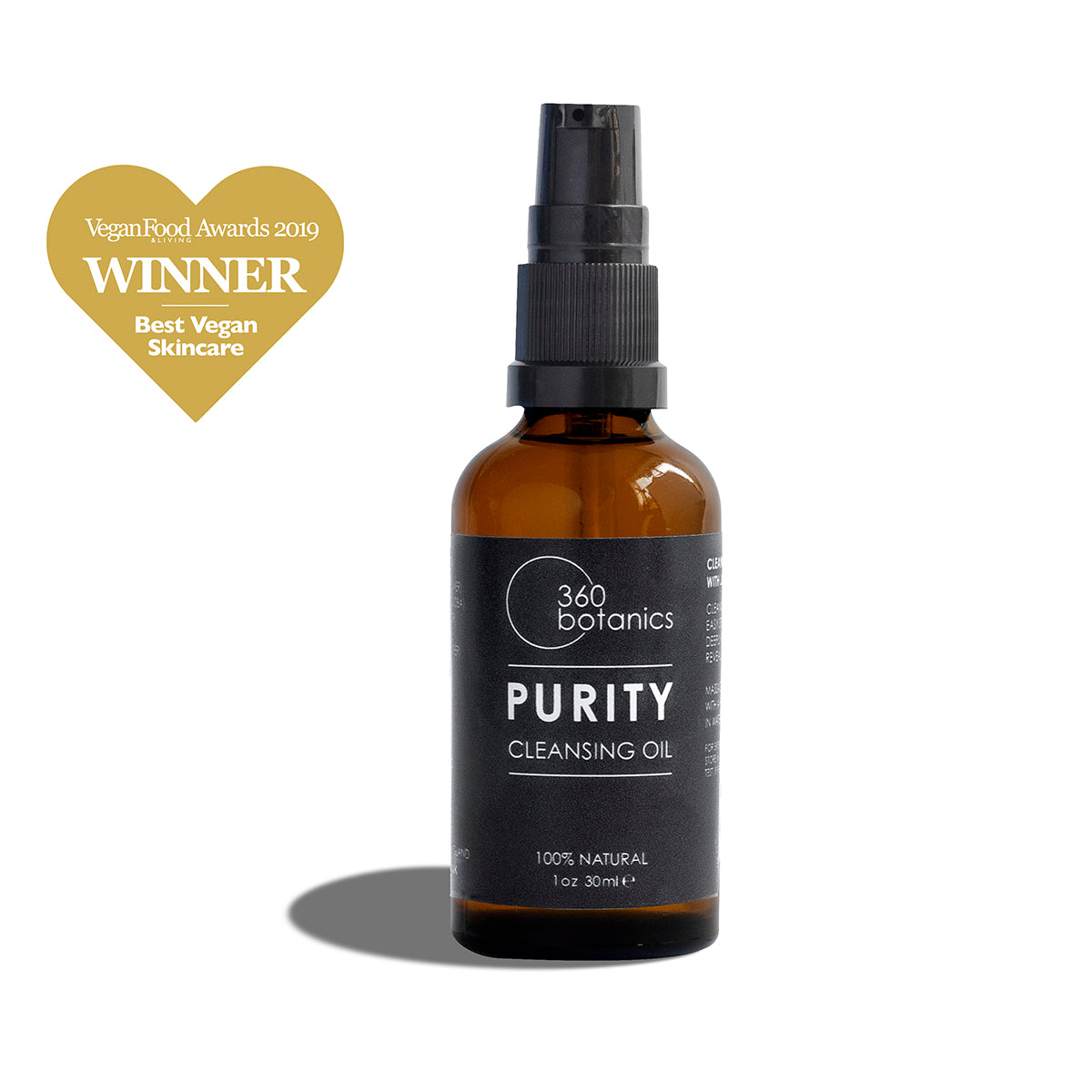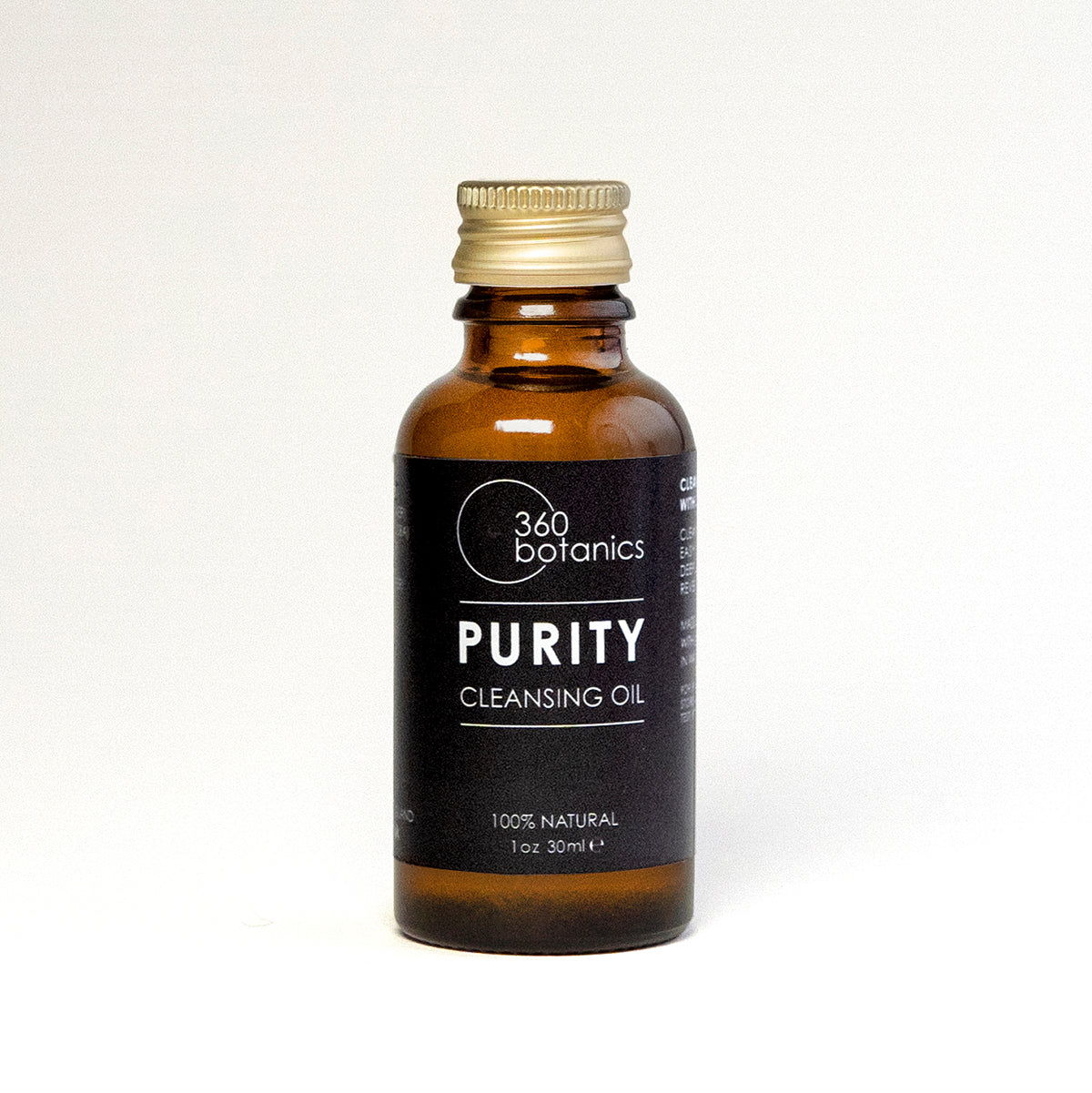 Excellent Product!
A fantastic start to the beauty regime...thanks 360botanics
Transformed Skin
I love the 360 Botanics skin range and so glad I discovered them a few years ago. I suffered from dry skin with acne flare ups and since using the Purity Cleansing Oil and other products have noticed such a difference.
My skin has been much
My skin has been much less dry since using this cleanser. I love it!